O'Malley's Hotel Karaoke Friday Sydney
Karaoke Hire Operator: Karaoke Samurai
228 William St
Woolloomooloo 2011
Fridays 9 p.m – 1 a.m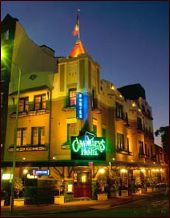 Date reviewed:
Song list: 15,500
Song Quality: 9/10
Sound Set up: 8/10
Participants talent: Mixed bag
Brands: Everything.
Host: Funky and fast.
Atmosphere: Party Party
Wait between songs:
The only Karaoke Pub in Kings Cross on a Friday and a Monday Night. Four hours of pure karaoke. Performing on a stage with stage lights and funky disco lights.
If the Monday night crowd is anything to go on the crowd will be international tourists and inner city party people. There are international songs and English language songs.
Get in early if you want to get a few songs in as this venue can get busy. The backpackers are known to flood the place by 11 pm then it's standing room only. The security is excellent and the crowd is there for a good time.
There is a pizza place next door and you can have the food brought in. Right to your table.
The sound system is excellent and the karaoke songs are good versions. This is a Karaoke Samurai show.  They host karaoke shows across Sydney.
Tim McMahon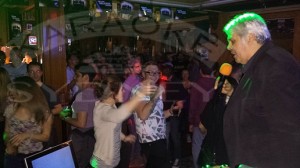 Page – Karaoke Monday Sydney.