Ambarvale Hotel Karaoke Friday
Sydney's Leading Karaoke Hire: Karaoke Samurai
8 pm to Midnight.
57 Woodhouse Dr
Ambarvale NSW 2560
**Kids are allowed until 11pm**
Karaoke Rating
Date reviewed: Saturday, 17 Nov 2015
Frequency Of Karaoke: Every Saturday.
Songlist: 15,500
Song Quality: 9/10
Sound Set up: 8/10
Participants Talent: Great Elvis and Crooners
Brands: Everything.
Host: Top Karaoke DJ
Atmosphere: Relaxed
Wait between songs: 45 minutes
The karaoke Saturday night show is held in the bistro every week. The bistro is open late and it is seriously good value. The Ambarvale Hotel Karaoke Friday show is the only karaoke in the area. Seating is on comfortable cushioned stools and dining chairs. There's a beer garden for smokers, gaming room and a lounge area. Kids are allowed until 11pm. This show seems to attract the people from all around the South Western Sydney region.
Update: Karaoke will continue while renovations are taking place. There will be no break in the karaoke due to renovations.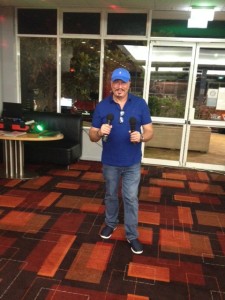 Ambarvale Hotel Karaoke Friday - Friday Karaoke